St Cuthbert's RC Primary School
St Cuthbert's RC Primary Switch Off Day
St Cuthbert's Primary School worked with their OASES Energy Officer to reduce their electricity usage. They decided to raise awareness of this by organising a Switch Off Day. Staff and pupils worked together to switch off lights and electrical items across the school for a whole school day, including all computers, projectors and printers!
The exciting Switch Off Day began with a whole school assembly led by an OASES Energy Officer. Staff and pupils learned more about where their electricity comes from and imagined what life would be like without it.
In the morning KS1 pupils transformed into energy superheroes! Wearing their own design energy superhero mask, the pupils learnt more about what uses electricity and how important it is to switch things off when they are not in use. In the afternoon, KS1 pupils made their own apple juice using no electricity! The pupils chopped up the apples and then used an apple press to create fresh apple juice. It was hard work, as without electricity the pupils had to turn the press themselves, but the pupils agreed it was the best apple juice they had ever tasted!
KS2 pupils explored different types of renewable energy, using a dynamic model wind turbine and solar panel kit to carry out an investigation. The pupils took the solar panel kit outside and worked in teams to find the angle at which the solar panel which would make the most electricity.  In the afternoon, KS2 pupils thought about how food can be cooked without using electricity. An OASES Energy Officer helped the pupils toast marshmallows on a fire.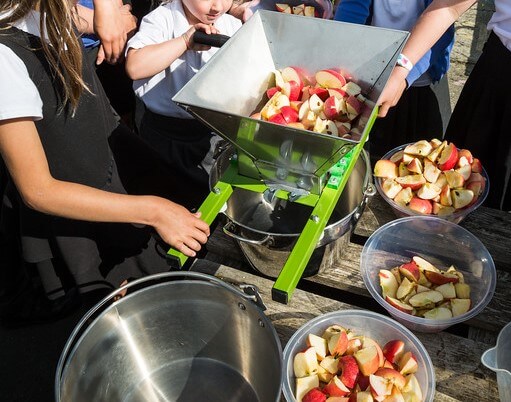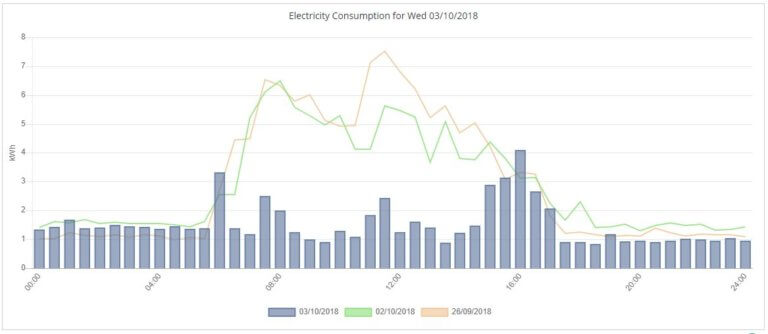 Savings From The Switch Off Day
Huge electricity and financial savings were made on the Switch Off Day! This can be clearly seen in the graph to the left, which shows electricity use every half on hour on three days. The usage on the 3rd October (represented by the blue bars), is much lower than the other two days (green and apricot lines) which show the usual pattern of electricity usage for St Cuthbert's.
If you would like to organise your own Switch Off Day, then you can find a Switch Off Resource Pack on the eco2smartschools.org.uk website, which includes helpful guides such as what electrical items you can and can't switch off. Visit the Saving Resources section to download this. Or get in touch with your OASES Energy Officer who can support you in organising and delivering a Switch Off Day in your school.
See all ECO2 Smart Schools Case Studies
Our library of case studies keep on growing as more smart schools join and get involved with our projects.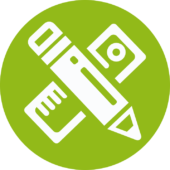 We help you create practical and engaging learning experiences exploring energy, climate change and the environment throughout the curriculum.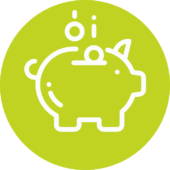 Through our support and expertise we help schools to make significant savings through practical changes and implementation of the programme.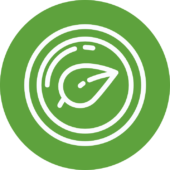 resources for the whole school community to learn more about the environment and how to make positive changes to safeguard it for the future for all.